With over 3 million websites running on Shopify, there's no denying that it's one of the top eCommerce platforms, if not the best, to set up an online store. It's a powerful platform for businesses of all sizes, offering numerous advantages to its users over other platforms.
Like many entrepreneurs turned Shopify developers, you're here to learn how you can change your Shopify store's name.
Is it because you've realized your current Shopify store name no longer fits your brand? Or have you recently come up with a much better name? Whatever reason you want to change it, we're here to help you learn how to do it through this guide we'll provide throughout this article.
Table of Contents
What is a Shopify Domain Name?
Shopify offers two types of domain names: unique and custom. A memorable domain name is registered with Shopify, while a custom domain name is one you own independently of Shopify.
There's only one thing you need to remember: your Shopify store name is unique. When you create a new store in Shopify, you can't copy the same name as others are using. Use the following guide to learn how to change your Shopify store name and get ready to take over the e-commerce world.
Guide To Changing Your Shopify Store Name
The process of changing your Shopify store name is easy, but you need to know what you're getting into before you do it.
If you wish to modify your store name, there are two options:
You can transfer your domain name from one site to another. This way, the public-facing URL for your customer will be https://yourstorename.com. Note: You will be the only one who sees your link with the "myshopify.com" part of it.
You can create a new account and register a custom domain with your new name. And don't forget to perform a Shopify migration to the new shop to preserve what you've done so far!
On the other hand, if you don't mind the "myshopify.com" part and need to change your store name, here's the step-by-step guide.
Step 1: Navigate to the Settings Page
Log into your Shopify admin and click on the Settings menu at the top of the page. From there, select General under the Settings menu.
Step 2: Click on Edit Account Information
This will open up a new tab where you can edit your account information, including your business name (also known as your "Display Name").

Step 3: Enter a New Display Name
Next, enter a new Display Name in this field and click Save Changes at the bottom of this page when finished.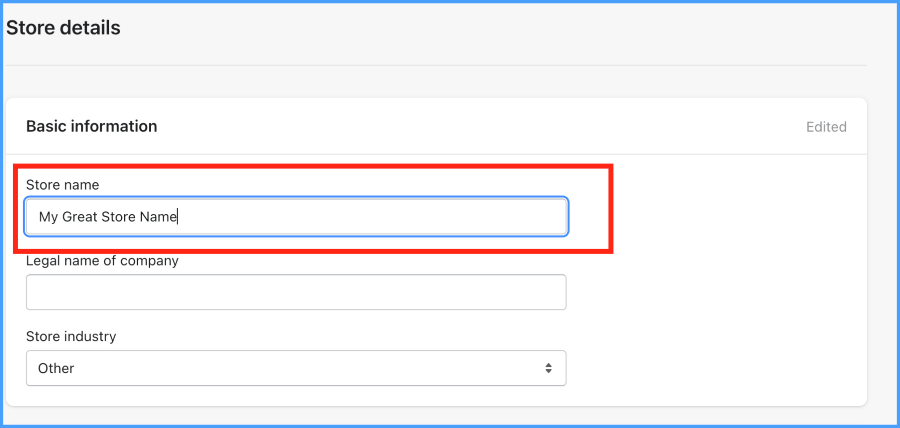 When Should You Change Shopify Store Name?
While changing your Shopify store name is certainly possible, consider this carefully before taking action. Changing your store's name after you have started marketing and building brand awareness can be counterproductive and may undo all your brand-building efforts. Worse, it might result in a loss of traffic and sales.
Even so, here are some compelling reasons for changing the name of your Shopify store.
1. The name isn't catchy
When you start your business from scratch, you want to choose a short, easy-to-remember, and unique name. However, when you are in the international market and especially for an online store, many things can go wrong with your choice of business name.
One of the most common problems you can face is that your customers cannot fully understand or spell the name correctly. Hence, it could bring a negative effect on your brand recognition. So if your business has a generic name, people won't be able to remember it easily and will probably forget about it quickly. This can result in a loss of customers as well as sales.
2. The domain name is already taken 
Using a name that someone already owns or similar to their concept can confuse your customers. Moreover, you might have problems registering for a business license with an already-owned domain. And so, you should ensure that your name is unique and sets you apart from the pack.
Besides, using a similar Shopify name can negatively influence your SEO score on search engines. To avoid this scenario, you can use an additional Shopify SEO app to improve your ranking result. Or you can check whether any other website has already taken over the domain name by checking on https://whois.com/.
3. You are following a short-term trend
You may have heard that you should change your Shopify store name when a trend changes. And yes, capturing the trend by your store name can greatly benefit your business. However, short-term trends frequently develop associations with certain groups or rapidly changing stereotypes. After a while, you might find the trend no longer overlaps your target customer, and you should rename the Shopify store.
The solution is to ask yourself if there's anything you can do to change the name of your Shopify store without losing any customers or sales. If it does not affect your customers and sales, then there is no reason to change it, and if it does, then you should consider changing it right away.
Final Thoughts
When launching your Shopify store, you must carefully consider the name you will give it. While many great store names are available, finding the ideal one may not be so easy. But the good thing is, if you end up wanting to change your store's name at a later time, you can eventually do so.
However, remember that swapping a Shopify store name can be a tedious and daunting task. This is especially true if you want to move to a new one quickly. It will take lots of time, effort, and money to migrate all your web assets from the old name to the new one. Moreover, running an online business with multiple stores could also get complicated. Thus, migrating your Shopify store name as soon as possible should be your utmost priority.
Mo Sheikh is an entrepreneur, developer, and marketer. As the Founder of Adaptyve Digital, he helps teach ecommerce business owners ways to manage, grow, and scale their business.