Building an ecommerce website is an exciting project. You start with a blank canvas, and have the opportunity to create and design an ecommerce experience your customers will love. At the same time, the number of decisions to make, questions to answer, and tasks to complete can be daunting and overwhelming.
One of the key decisions you face is selecting the right ecommerce platform to build your store. But how exactly do you figure out which ecommerce platform is the best fit for your business and your customers?
Let's take a look at what an ecommerce platform is, the factors you should consider when evaluating different ecommerce platforms, and how to choose the right platform to build your store. We'll also explore six of the most popular ecommerce platforms available to you in 2023.
Table of Contents
What is an ecommerce platform?
When most people think of an ecommerce platform, they view it simply as a tool allowing them to list their products for sale online, accept online orders, and process online payments. However, a true ecommerce platform provides much more value to your business.
From a business perspective, an ecommerce platform should allow you to seamlessly run and control every aspect of your business, from inventory to sales to marketing. It should also provide you with the tools you need to effectively market and sell your products online. These marketing tools aren't just limited to your online store. Your ecommerce platform should provide multichannel sales capabilities so you can sell your products across platforms like Amazon, Instagram, and Facebook, among others.
Your goal should be to build a seamlessly integrated ecosystem to efficiently organize your ecommerce operations. This ecosystem includes your ecommerce store, multichannel sales, POS (if you have brick-and-mortar locations), payment processors, digital marketing platforms, and other tools to streamline your business.
What does a great ecommerce experience mean to your customers?
When evaluating ecommerce platforms, it's easy to get lost in comparing pricing, features, and the functionality each platform offers. These comparisons are important. However, it is equally as important to remember your ultimate goal – to provide your customers with a great online experience.
Modern consumers are looking for brands who make shopping and engaging with them online feel easy. But what exactly does that mean? How do you know if you're providing your customers with the high-quality online experience they expect?
Put yourself in your customer's shoes and think about how you could make it easier and more enjoyable to engage with your brand online. For example, if your data shows your target demographic spends a lot of time on social platforms like Instagram, your ecommerce platform should integrate with these social platforms. Adding features like social sharing and multichannel sales would allow your customers to engage with you on Instagram and other platforms.
Another great way to better understand your customers' expectations is to ask them! Identify your top customers and organize a focus group or survey. Many customers are happy to help their favorite brands improve their product and service offerings. In exchange for their feedback, you could offer customers a small freebie, a discount on their next order, or anything else that resonates with them. As a bonus, your customers will feel highly valued and may become more loyal to your brand!
What are the important factors to consider when evaluating ecommerce platforms?
A huge part of the evaluation process is identifying your business needs and evaluating how each ecommerce platform addresses them. While it may be easy to list out your current goals, you should also think about how your goals will evolve in the future as your store and business grow.
Here are some basic factors you should consider when evaluating potential ecommerce platforms:
Is the platform hosted or self-hosted?
Does the platform offer basic ecommerce features like catalog management, discounts, promotions, and store analytics?
Is the platform user-friendly?
Is the platform optimized for and easy to use on mobile devices?
Does the platform offer multichannel sales opportunities (like selling on Facebook or Instagram)?
What kind of SEO features and tools does the platform offer?
Does the platform have an extensive app marketplace with pre-built integrations?
If you have brick-and-mortar locations, does the platform offer POS capabilities?
What kind of customer support is available to you?
Are there APIs available for custom integration capabilities if you need them?
How much does the platform cost and does the price fit within your budget?
Is the platform scalable and will it grow with your business?
The best ecommerce platforms for 2023
The best ecommerce platform your business will depend entirely on your business model, needs, and plans for growth. To help you get started evaluating the best option for your business, here is an overview of the six most popular ecommerce platforms available in 2023.
Jump to a specific platform
Shopify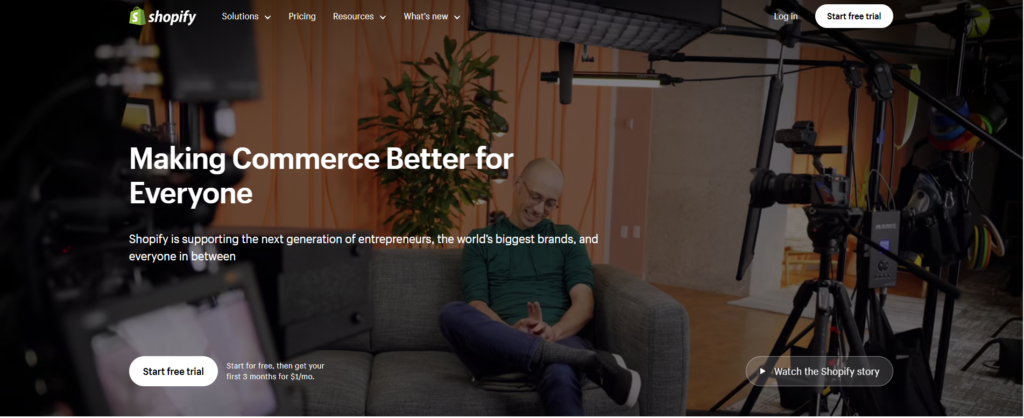 Key Points:
Price: Basic Shopify $29.99/mo; Shopify $79/mo; Shopify Plus $299/mo; Shopify Plus enterprise options available
Free trial: 14 days, no credit card required
Customer support: phone, email, community forums, and content
Integrated sales channels: Amazon, eBay, Facebook, Google, Instagram, and Walmart Marketplace
Mobile apps: Full suite of mobile tools to fully manage your online business
POS: Shopify POS
Shopify is one of the biggest and most popular ecommerce platforms available. The Shopify interface is very easy to use, and you can set up your store without any coding or technical skills. When it comes to site design, Shopify offers both free and paid themes to fit all kinds of businesses. There are also plenty of third-party themes available to help you find the perfect site design for your business.
If your business grows, you won't have to worry about changing ecommerce platforms. Shopify caters to both small and large businesses, meaning you can scale your Shopify plan up as you grow. The platform also provides powerful tools to easily enable multichannel selling on your online store, at your retail store, on social media, and third-party marketplaces. Shopify also offers a suite of business tools to help you run your business, like Shopify Payments, Shop Pay, Shopify POS, and Shopify Fulfillment. The Shopify App Store currently lists over 5,000 third-party apps to help you customize your store.
Shopify is a great platform if you're committed to building a successful online business and want to create a solid ecommerce foundation. You'll have all the tools you need to manage your store and grow your business.
Pros:
Best sales features on the market
Easily enable multichannel selling
Great inventory system to help you centralize and manage your inventory
Built-in dropshipping tools
Over 5,000 third-party apps available on the Shopify App Store
Full suite of business tools available
Cons:
Apps can get expensive for small businesses
Limited ability to customize checkout pages
Charge transaction fees if you aren't using the Shopify Payments payment gateway
BigCommerce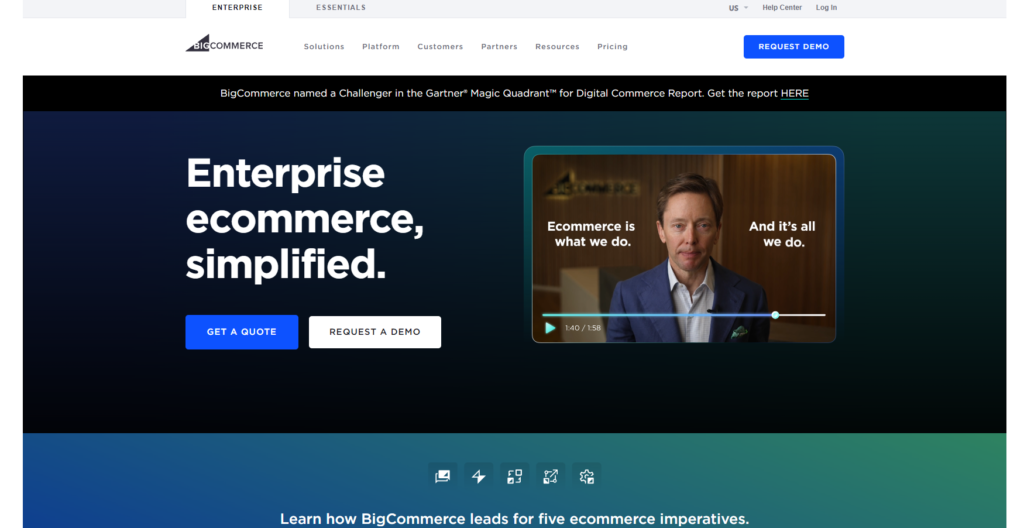 Key Points:
Price: Standard $29.95/mo; Plus $79.95/mo; Pro $299.95/mo; Enterprise custom pricing; discounts available when paying annually
Free trial: 15 days
Customer support: phone, email, and chat
Integrated sales channels: Amazon, eBay, Etsy, Facebook, Google, Instagram, and Walmart Marketplace
Mobile apps: View analytics, update orders, manage products and inventory, and manage customers; some features are only available on Android
POS: Yes
BigCommerce is another major player in the ecommerce landscape. The platform's headless commerce approach is well-suited for growing and enterprise-level companies looking to enrich their customers' online experience. BigCommerce has the most built-in features of any platform out there, meaning you won't have to pay as much for apps as you would on other platforms. It also provides great SEO tools to help you improve your rankings with search engines.
The platform provides a lot of tools to help your business grow rapidly and is designed to support large stores. Because of this, it's a little more complicated to use than a platform like Shopify. If you're looking to grow your business, you'll find a lot of value in the features BigCommerce provides. If you're not looking to scale your store, you'll be paying for features you don't need for your small business.
Pros:
Flexible and scalable to meet your business goals
Advanced sales features designed to grow your business
Excels with multichannel selling
Strong SEO tools and performance
Beautiful theme designs
Cons:
Not as beginner friendly as other platforms
Steep learning curve for some of its advanced features
You may pay for powerful features you don't need
WooCommerce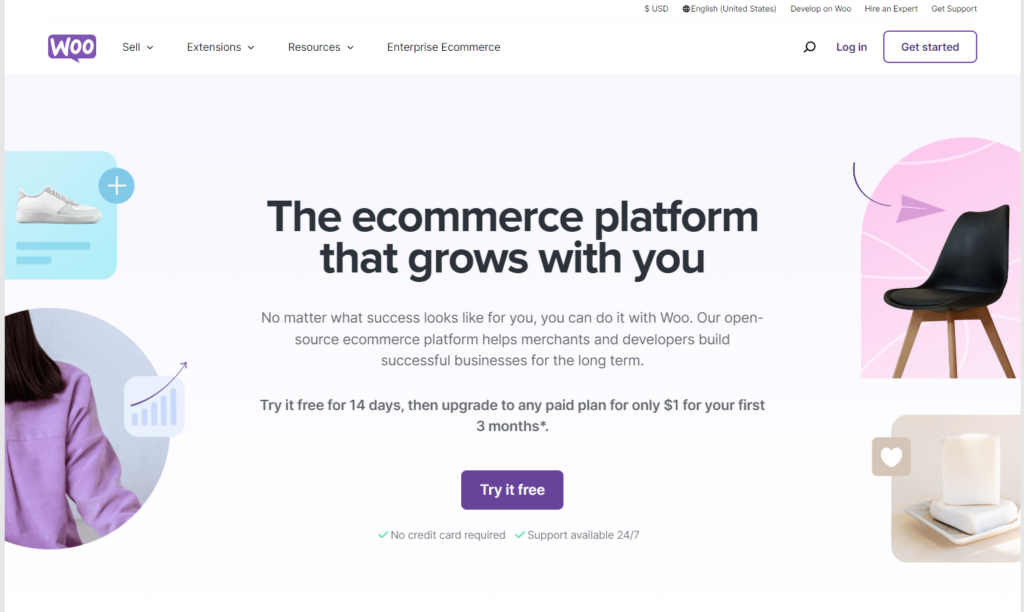 Key Points:
Price: WooCommerce estimates costs to be $120/yr for hosting; $15/yr for a domain name; up to $100/yr for a site theme; up to $108/yr for shipping; and up to $65/yr for an SSL certificate
Free trial: None, but WooCommerce offers a 30-day money-back guarantee
Customer support: email and live chat
Integrated sales channels: Amazon, eBay, Etsy, Facebook, Google, Pinterest, and Walmart Marketplace
Mobile apps: add products, manage orders, and view analytics
POS: Yes
If you're familiar with WordPress, then the open-source WooCommerce plugin provides an easy way to add ecommerce functionality to your WordPress website. Because WordPress is primarily a content management system, many of WooCommerce's selling features are simple. You may need to rely on additional third-party plugins to introduce advanced ecommerce capabilities.
While WooCommerce itself is free, some third-party plugins are not. The platform has an excellent developer community, so third-party support and assistance is available at a cost. The biggest downside with WooCommerce is scalability. Many users have reported slow load times as they add more products, customers, and orders.
WooCommerce is a great option for hobbyists, starter stores, or bloggers and brands with an existing WordPress site who are looking to expand into ecommerce.
Pros:
Great for businesses already familiar with WordPress
WordPress is the best platform for SEO
Strong community of WordPress and WooCommerce experts
Highly customizable
Plenty of third-party apps and integrations available
Cons:
Not as powerful out of the box as other ecommerce platforms
Many users have reported scalability issues
Quality hosting, third-party support, and plugins can become expensive
Adobe Commerce (Magento)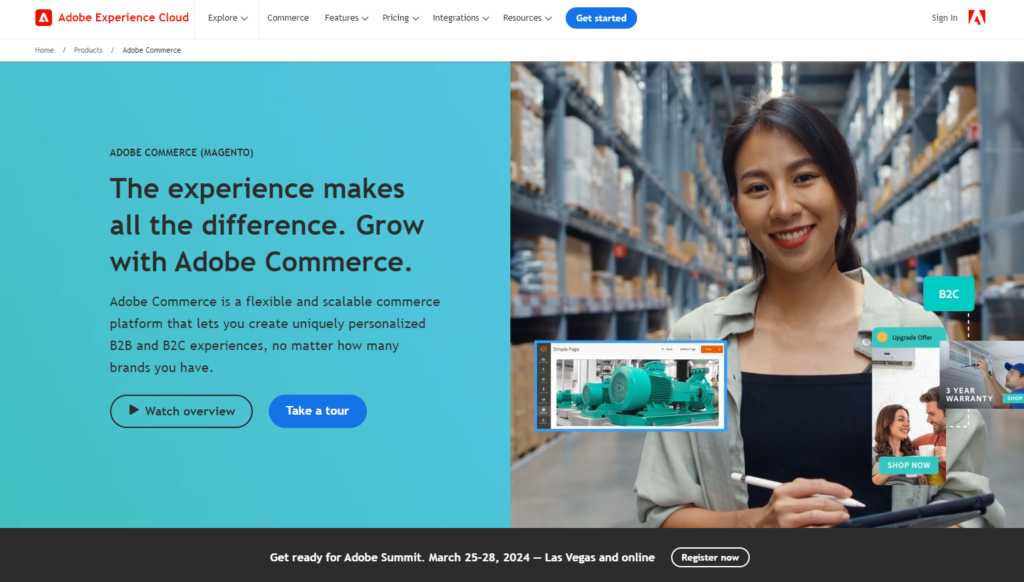 Key Points:
Price: Custom pricing for Adobe Commerce Pro and Managed Services
Free trial: No free trial available
Customer support: phone support and online help/technical resources available
Integrated sales channels: Amazon
Mobile apps: n/a
POS: Third-party extensions available
Adobe Commerce (Magento) is an ecommerce platform built for brands who want a powerful, flexible system they can customize. Adobe Commerce offers two versions – Adobe Commerce Pro and Adobe Managed Services.
While Adobe Commerce allows you to create a platform completely tailored to your business, it also presents many hurdles in the form of complexity and cost. You will need developers, or the budget for a development team, to build out and maintain the entire infrastructure. Adobe Commerce also lacks tools to create a multichannel strategy – it doesn't offer an easy way to turn on social commerce or marketplace selling.
Pros:
Scalable and highly customizable
Robust and feature rich
Strong SEO features
Large community of developers
Cons:
Adobe Commerce is too expensive for startups and smaller businesses
Requires advanced coding and development skills
No easy way to use social commerce or marketplace selling
Squarespace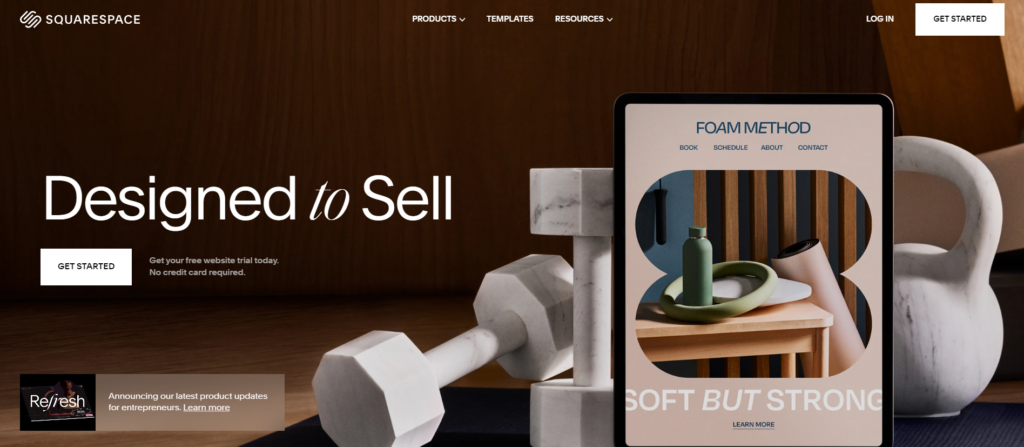 Key Points:
Price: Personal $16/mo or $12/mo when paid annually; Business $26/mo or $18/mo when paid annually; Basic Commerce $35/mo or $26/mo when paid annually; Advanced Commerce $54/mo or $40/mo when paid annually; Enterprise pricing also available
Free trial: 14 days
Customer support: email and chat
Integrated sales channels: Amazon, eBay, Etsy, and Google
Mobile apps: website editing, scan shipping labels, order management, inventory management, and customer communication
POS: Available via mobile app
Squarespace is primarily known as a user-friendly drag-and-drop website builder that offers sleek templates and designs. With some time, patience, and a few tweaks, you can add ecommerce functionality to your Squarespace website for a low price. Squarespace comes with all the basic features you'd expect from an ecommerce platform, and their advanced plans provide access to marketing, inventory management, social selling, SEO, and analytics features.
Because Squarespace is primarily a website builder, it doesn't provide many options in terms of available payment processors and third-party apps. When selling on Squarespace, you are limited to using either Stripe or PayPal as your payment processor.
Overall, Squarespace is a great option if you're looking to set up a small, inexpensive, and visually appealing ecommerce store.
Pros:
Easy to set up and use
Stunning, visually appealing designs
Low price to get started
Cons:
Limited sales features compared to other ecommerce solutions
Stripe and PayPal are the only available payment processors
Limited third-party app options
Wix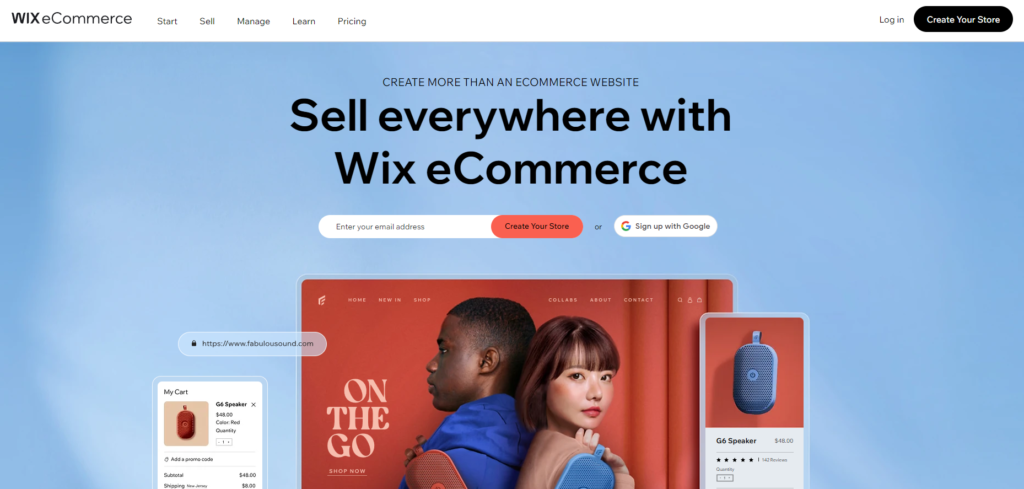 Key Points:
Price: Business Basic $23/mo; Business Unlimited $27/mo; Business VIP $49/mo
Free trial: No free trial available
Customer support: phone support and online help/technical resources available
Integrated sales channels: Facebook and Instagram (third-party app required for both)
Mobile apps: ability to manage your website
POS: Yes
Like Squarespace, Wix is a user-friendly drag-and-drop website builder offering customizable templates. It is beginner-friendly and gives you total creative control over the look and feel of your ecommerce site. Wix is also cheaper compared to other ecommerce platforms.
With Wix, you can build a basic website for free, but to enable commerce features you'll need to upgrade to a paid plan. Their ecommerce offering allows you to set up a basic online store. However, it lacks critical features for product-based businesses, like low stock alerts and inventory management.
If you are a small business with a small product selection, Wix is a great ecommerce option to help you build out your site quickly without any coding knowledge.
Pros:
Really simple to use and setup
Provides total creative control over the look and feel
Large selection of free themes available
Cons:
Lacks sales and ecommerce functionality compared to other platforms
Poor SEO performance
You can't sell products across multiple social channels
Conclusion
To start an ecommerce business, you must choose the best ecommerce platform for your needs. There are many different options available, and it can be tough to know which one is right for you. At the end of the day, Shopify offers the best bang for your buck. It's powerful, yet easy to use and allows you to build a flexible and robust online store for your business. Shopify also offers a variety of tools to help you grow your business. If you're looking to start your ecommerce business the right way, there's no better choice than Shopify.
Mo Sheikh is an entrepreneur, developer, and marketer. As the Founder of Adaptyve Digital, he helps teach ecommerce business owners ways to manage, grow, and scale their business.