Learn How Top DTC Brands Generate $1M+/mo from Email Marketing
Introducing the Email Marketing Accelerator, a comprehensive checklist with 175+ action items used by top eCommerce brands. Discover the roadmap to earning over $1M per month with email marketing.
🚀 Discover campaign strategies that can bring in $100K in a single day.
📈 Set up Flows that can double or even triple your email revenue.
💌 Achieve fantastic open & click-through rates with clever deliverability hacks.
🔥 Tackle the critical areas including Campaigns, Flows, Opt-In, & Design
📚 Designed for everyone from seasoned pros to email marketing newbies.
❤️ We're here to answer all your questions and guidance when you need it.
On the Adaptyve Digital blog, you'll find in-depth guides, how-to's, articles, case studies, and much more, all designed to help you succeed.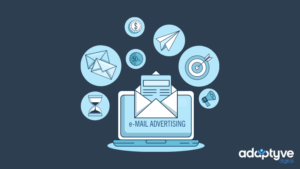 Email marketing generally makes up 20% to 30% of overall profit in direct-to-consumer businesses. You risk leaving a ton of money on the table if you don't add email marketing campaigns to your Shopify store. Klaviyo is one of the best email and SMS marketing platforms available on the market. It's the perfect tool to help …
Subscribe to the Newsletter
We share our best stuff by email. Subscribe below to stay in the know.