You've worked hard to get a customer to purchase from your Shopify store, but what happens after they make a purchase?
Too often, customers are sent to a generic thank you page that doesn't provide any value and doesn't help them take the next step in their journey.
Many businesses overlook the thank you page entirely. As a result, they lose the opportunity to increase their return on investment (ROI), return on ad spend (ROAS), average order value (AOV), and lifetime customer value (LTV).
Here's the cold hard truth: without an effective Shopify thank you page, you're leaving money on the table!
Let's explore five ways to make the most of your Shopify thank you page and increase those key business metrics!
What is a Shopify Thank You Page?
A Shopify thank you page is a page that a customer sees after they complete an action, like making a purchase or subscribing to your newsletter. The purpose of the thank you page is to thank the customer and share additional information or offers they find valuable.
However, many thank you pages are ineffective. They display a generic message and fail to take advantage of the customer's attention!
For example, a Shopify thank you page is typically a white page with a brief message thanking the customer for their order.
While this is better than nothing, it doesn't give customers any information or offers to encourage them to stay on the site or make another purchase.
An effective thank you page should include a strong call-to-action and additional offers that encourage customers to stay on the site, come back in the future, and convert again.
Thank you pages are essential to any sales funnel. Store owners should optimize their thank you pages to maximize their effectiveness.
Why a Strong Shopify Thank You Page is Important
There's an old saying in business that it's much cheaper to keep a customer than to acquire a new one. When it comes to e-commerce brands, that is especially true.
Acquiring new customers is expensive! Repeat customers, on the other hand, are essential to the long-term growth of any e-commerce business. In fact, a study by Bain & Company found that improving customer retention by five percent can increase profits by 25-95%.
Repeat customers spend more per order, have a higher lifetime value, and are less likely to churn. In other words, they're the ideal customer.
And yet, many e-commerce brands focus on acquiring new customers and neglect their existing ones. They pour money into marketing campaigns designed to attract first-time buyers but do nothing to encourage their customers to come back and buy again.
This is a mistake!
What if you could use a Shopify thank you page to directly increase your profitability?
Let's run through an example.
Say you run an online store selling t-shirts for $30 per shirt.
It costs you $10 to acquire a customer through paid advertising. Let's also say your cost of goods sold is $10.
Let's say a customer comes to your store, buys one $30 shirt, and never buys from you again. Your return on investment (ROI) is 50% (excluding taxes and other costs in this simplified example).
Now, how can you generate more profit from this same customer? You get them to buy more, right?
They can buy more at this point of sale or from your optimized thank you page! Or, they can buy again in the future from incentives on your thank you page.
If we can encourage the customer to buy two shirts instead of one, our ROI doubles to 100%.
But it doesn't stop there.
What if we could use our Shopify thank you page to encourage shoppers to return to the store by offering them a discount on their next shirt purchase?
Now, our ROI is 125%!
As you can see, a strong Shopify thank you page can significantly impact your business's bottom line. You can increase your profits by increasing customer retention and encouraging repeat purchases without spending more money on acquiring new customers.
Now that we know how important it is to have a strong Shopify thank you page, let's explore what you can do to optimize your store's thank you page.
5 Ways to Optimize Your Shopify Thank You Page
Here are five ways to optimize your Shopify thank you page.
1. Upsell and Cross-Sell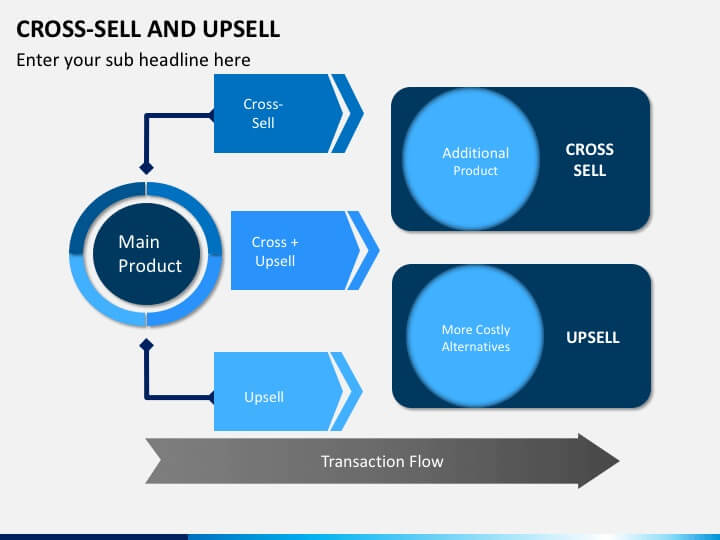 Upselling and cross-selling are two effective marketing strategies every Shopify merchant should use.
Upselling is selling a more expensive or premium product than the initial product.
On the other hand, when you cross-sell, you offer a complementary product to the customer.
For example, let's assume a customer buys a pair of shoes from your store. You may upsell them by offering a more expensive pair of shoes made from higher-quality materials.
Or, you might cross-sell them by showing them a pair of socks that would go well with the shoes they just bought.
The thank-you page is the perfect place to implement these strategies. You already have the customer's attention, and they already purchased something from your store.
Why not take advantage of this opportunity to earn more sales directly after a successful purchase? This also increases your average order value and your revenue!
Here's an example of a beautiful post-purchase upsell and downsell: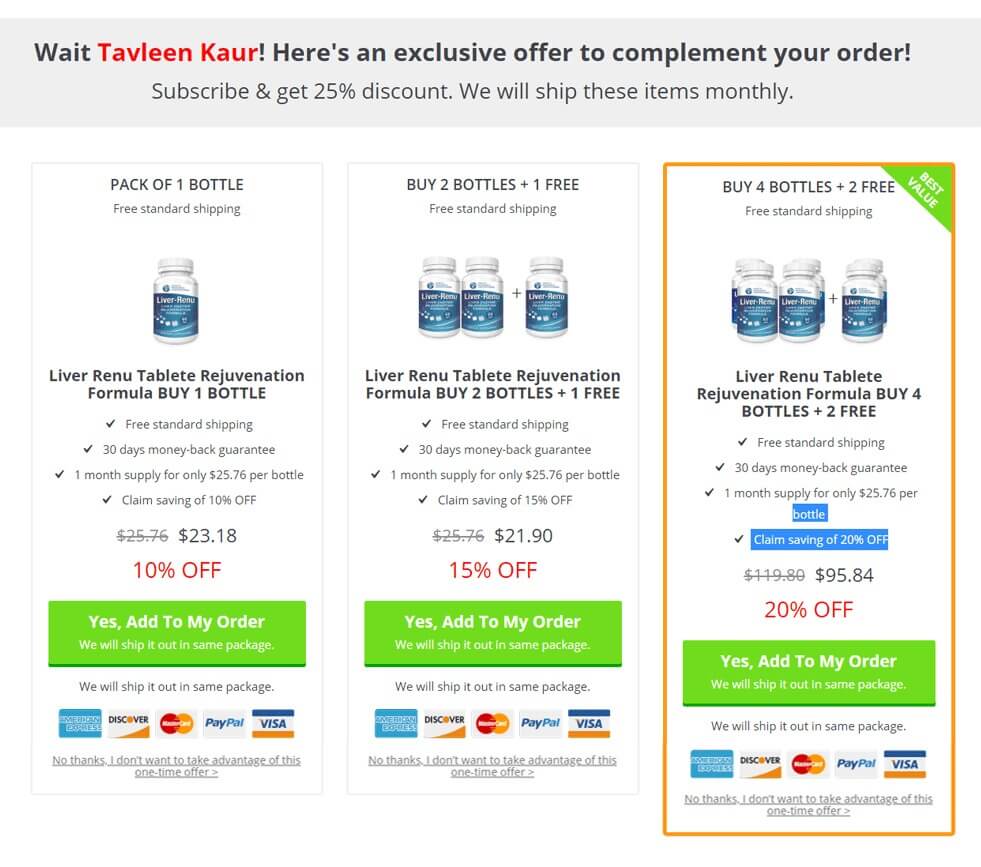 Of course, making this part of the buying experience 100% frictionless is best. A great way to do this is to use "one-click upsells" directly after your checkout pages. As the name implies, this is an upsell that a customer can purchase with a single click.
This means the customer doesn't have to return to the checkout page and go through the hassle of re-entering their shipping information or credit card number. If you want to encourage repeat purchases, this is the best way to add another practical step to your sales funnel.
You can also use timers and discounts directly on the thank you page to create a sense of urgency and encourage customers to buy more. For example, you could offer a 20% discount that expires in 2 minutes.
2. Incentivize the Customer to Come Back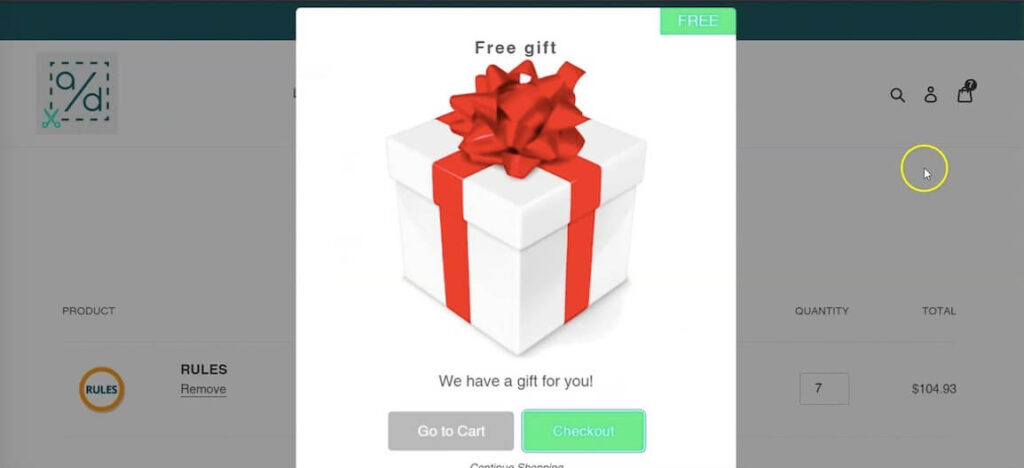 You can do a few key things to incentivize existing customers to return to your shop on your Shopify thank you page.
First, consider offering an exclusive discount or free gift with their next purchase. For example, you could offer customers 10% off their next purchase or free shipping on their next order.
Because repeat customers are so valuable, giving customers a little incentive to return is worth it.
You can also add an expiration date to the discount, just as we discussed with the upsells. Again, this will create a sense of urgency and encourage customers to take advantage of the offer while it's still available.
After a single purchase, a customer has a 27% chance of returning to your store. If you can get that customer to purchase a second and third time, they have a 54% chance of continuing to buy from you afterward!
Effectively, each time a customer comes back and shops with you, they become more likely to continue shopping with you in the future.
So, you must do what you can to encourage customers to return soon after each purchase, especially after the first purchase!
3. Implement a Referral Program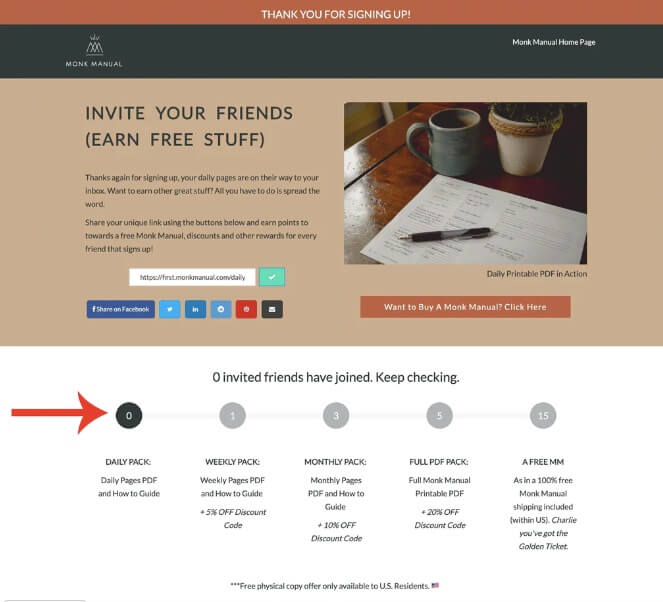 Offering a discount to customers who refer their friends to your store is another excellent way to increase sales and acquire new customers while rewarding existing customers.
Referral offer pages work like this: when a customer refers a new customer to your store (word of mouth), they receive a discount on their next purchase. The new customer also gets a coupon code, which encourages them to shop at your store again in the future. Referral discounts are a win-win for both you and your customers!
The more customers purchase from your store, the more likely they will refer new customers to you. Bain & Company found that the likelihood of a customer referring a friend increases by 16% after their fourth purchase from a store.
4. Gather Valuable Customer Feedback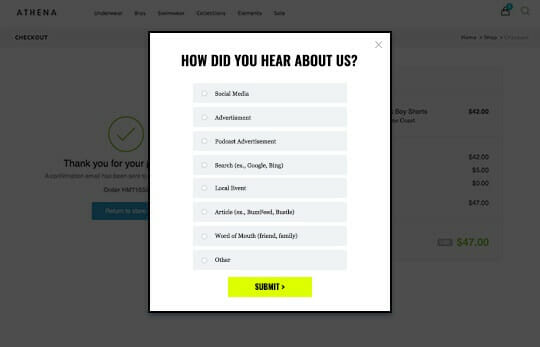 A Shopify thank you page is a great place to integrate post-purchase surveys. You can ask customers how they found out about your store, their favorite products, and what led them to purchase.
In addition, post-purchase surveys can help improve customer satisfaction by providing valuable information you can use to optimize your online store. You can use this information to generate more customer loyalty and sales.
But how do you create the best survey possible? Here are a few quick tips:
Keep it short: Nobody wants to spend 20 minutes filling out a survey. Keep your questions concise and to the point.
Ask specific questions: You want to get to know your engaged customers, so ask specific questions that help you understand their needs and wants. This also helps your customer feel valued!
Incentivize the survey: Offer valuable discounts or coupon codes to encourage customers to complete the survey.
By following these tips, you'll create a compelling customer feedback survey. In turn, you'll have more loyal customers and more purchases!
5. Add Tracking Details and Set Delivery Expectations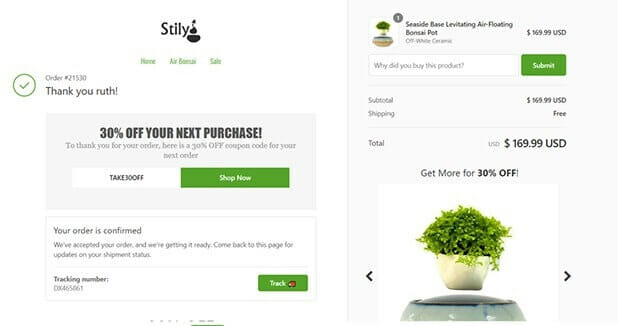 Your online store thank you page is the perfect place to include all the tracking details for your customers. Allowing customers to track their order status is essential for two reasons:
It builds trust between you and the customer by showing that you're keeping them updated on the progress of their order.
It helps set delivery timing and expectations, especially if you are dropshipping or have a longer than average shipping process.
According to a recent study, the average customer checks their order status 2.7 times before receiving their purchase. So make sure to provide detailed tracking information that's easy to find!
You are proactively providing excellent customer service and reducing potential customer issues by setting the proper expectations before and after the sale.
Customers love doing business with companies that make online shopping easy and hassle-free.
The best way to do this is to include tracking details directly on the thank you page. You should also send a shipping confirmation email with the tracking number and a link to the order status page. But including it on the thank you page ensures your customers have all the information they need in one place. You are effectively training them to view the order status page.
When stores lack transparency in order details or delivery information, customers may become anxious or angry. When customers become anxious or angry, they may contact their bank and perform a chargeback or tarnish your brand online.
Avoid all this by making it easy for customers to track their order and shipping status. Ensure your customers have a great experience with their purchase from start to finish, and they'll keep coming back to buy from you.
Continually A/B Test Your Thank You Page
The thank you page is often overlooked in optimization, but it can be a powerful tool for boosting revenue.
You're leaving money on the table if you're not split testing your Shopify thank you page. It's that simple.
Test different copy, offers, designs, and call-to-actions on your thank you page to find what works best for your online store. You'll want to measure the impact each of these variables has on the critical business metrics we mentioned:
Return on investment
Return on ad spend
Average order value
Customer lifetime value
There's always room for improvement, so don't be afraid to continually A/B test your thank you page.
Mo Sheikh is an entrepreneur, developer, and marketer. As the Founder of Adaptyve Digital, he helps teach ecommerce business owners ways to manage, grow, and scale their business.